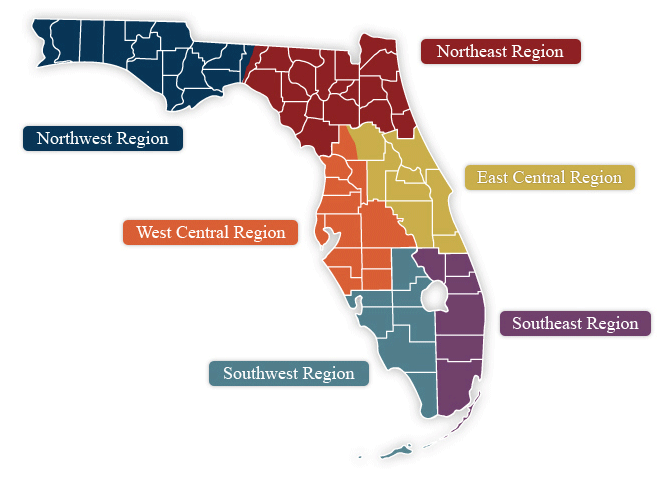 FEATURED JOB
Want to advertise in this space? Email Milan Clayton or Sori Sutton for more information.
Northwest Region
Calhoun County, Emergency Management Director
Calhoun County, Building Official 
Escambia County, Assistant County Administrator 
Okaloosa County, Risk Manager
Okaloosa County, Safety Coordinator 
Santa Rosa County, Engineer III
Walton County, Code Compliance Director 
Northeast Region 
Alachua County, Environmental Protection Director 
Duval County, Special Legislative Counsel 
Nassau County, Arborist 
West Central Region 
Charlotte County, Fleet Operations Manager
Hernando County, Assistant County Engineer
Manatee County, Human Resources Director
Polk County, Building Director 
East Central Region
Lake County, Senior Engineer
Indian River County, Director of Information Technology
Orange County, Public Works Director
Orange County, Fire Chief (City of Orlando)
Orange County, Director of Fleet
Osceola County, Information Technology Director (City of St. Cloud) 
Osceola County, Environmental Utilities Director (City of St. Cloud)
Southwest Region
Charlotte County, Transportation Engineer
Charlotte County, Fleet Operations Manager
Hendry County, EMS Operations Chief 
Highlands County, Airport Manager (City of Sebring)
Highlands County, Assistant County Attorney 
Lee County, Principal Transportation Planner
Monroe County, Director of Parks & Beaches
Sarasota County, Sustainability Outreach Specialist 
Sarasota County, Technical/Construction Manager II
Sarasota County, Division Manager, Park Planning and Development 
Southeast Region
Martin County, Project Engineer
Palm Beach County, Benefits Administrator (City of Boca Raton)
Palm Beach County, Deputy Director, Planning Zoning & Building Department 
outside florida
Coweta County, County Planner
Hunting for qualified candidates to fill county positions? Post your jobs with us!
Advertising on the FAC website is an excellent way to increase exposure to available positions in your county. Advertisements are $100.00 for county postings and $150.00 for city and out of state postings. The ads run for 60 days as well as being featured in our bi-weekly newsletter. For additional information please contact Milan Clayton or Sori Sutton at (850) 922-4300.