The Florida Association of Counties published the first version of the Florida County Government Guide in 2010, with a plan to update it biennially, prior to each election.
The Florida County Government Guide is a comprehensive reference on all aspects of Florida county government. The Guide includes information on Florida's history, the structure of county government, leadership and management, budgeting methods and strategies, economic development opportunities, growth management, human resources, emergency management, purchasing and contracting, health and safety, infrastructure and more.
In addition to being a reference for county commissioners and staff, the Guide also serves as the curriculum for the Certified County Commissioner (CCC) Program.
Each election cycle, all newly elected commissioners receive a complimentary New Commissioner Edition of the Florida County Government Guide. FAC members can purchase printed and electronic copies of the updated version.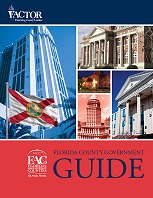 FAC would like to thank the sponsors of the 2014 Florida County Government Guide. The Florida Counties Foundation (FCF) and the University of Florida/IFAS Extension provided the funding to publish this third edition.