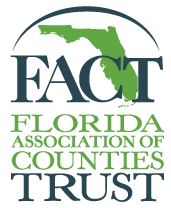 FACT Annual Risk Management & Educational Conference
October 12-13, 2017 | St. John's County 
**Online Registration is Now Closed**
Please save the date and register for the FACT Annual Risk Management Conference! We are excited to be back in the beautiful St. Augustine in St. John's County on October 12 & 13, 2017 and hope that you will be joining us again for another great line up of speakers.

The Florida Association of Counties Trust (FACT) is a group self-insurance program that is owned and managed by its member counties. FACT also provides many risk management programs to help counties reduce their exposure to loss. One of the programs offered to its member counties is an Annual Risk Management Conference. This conference is FREE for all member counties.

An agenda will be sent prior to the conference, but you can anticipate 6 workshops that are targeted for all county Officials including Commissioners, Constitutional Officers, Department Managers and Supervisors. The topics will include a variety of scenarios that you are faced with every day in the work place.

Once registered, you will receive our hotel reservation link. Your reservation must be made by September 17, 2017. After this date, reservation requests will be made on space available basis only. We have negotiated a rate of $129 per night with the Renaissance World Golf Village Resort. To show our appreciation for your continued support of this conference, we will once again be covering $99 of your lodging bill. This credit will be applied to your final bill.