What is it?
Thanks to a partnership between NACo and FAC, Florida counties can save residents millions of dollars in health-related costs through a FREE prescription discount card program. Residents simply take their discount card to a participating pharmacy to save money on prescriptions not covered by their insurance. The card can also be used to save on pet medications. Residents can view participating pharmacies, look up medication costs, and print out discount cards online at www.nacorx.org or on the phone by calling 877-321-2652.
How do counties participate?
All NACo member counties can participate in Live Healthy at NO COST to the county. Once enrolled, counties can provide a Live Healthy Contact in the county to help oversee the program. Live Healthy contacts can request marketing materials and update contact information using NACo's online toolkit. All marketing materials and support are provided for FREE by NACo and CVS Caremark. Participating counties will receive monthly updates on the utilization of the discount card in their county.
Key Features
No Cost to the County

Program provided at no cost along with standard marketing materials

Easy to Administer

No enrollment paperwork

No eligibility transmission required

NACo and CVS/caremark provide full support for the program

Customer Care managed by CVS/caremark

Proven Results

Average savings of 29%

Over 1,300 counties participate in the program saving residents over $695 million on their prescriptions

Savings up to 75%
Meet our Partner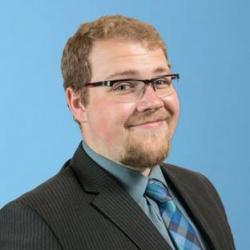 John Losh  |  Membership Outreach Manager
John focuses on increasing membership, retention, recruitment, marketing, improving customer service and program visibility. John oversees NACo's Prescription Discount, Health Discount and Dental Discount Programs, the U.S. Flag Disposal Boxes and serves as the liaison to the NACo Ambassadors. John has been with NACo since 2017.