Veterans Programs Available for Counties at NO COST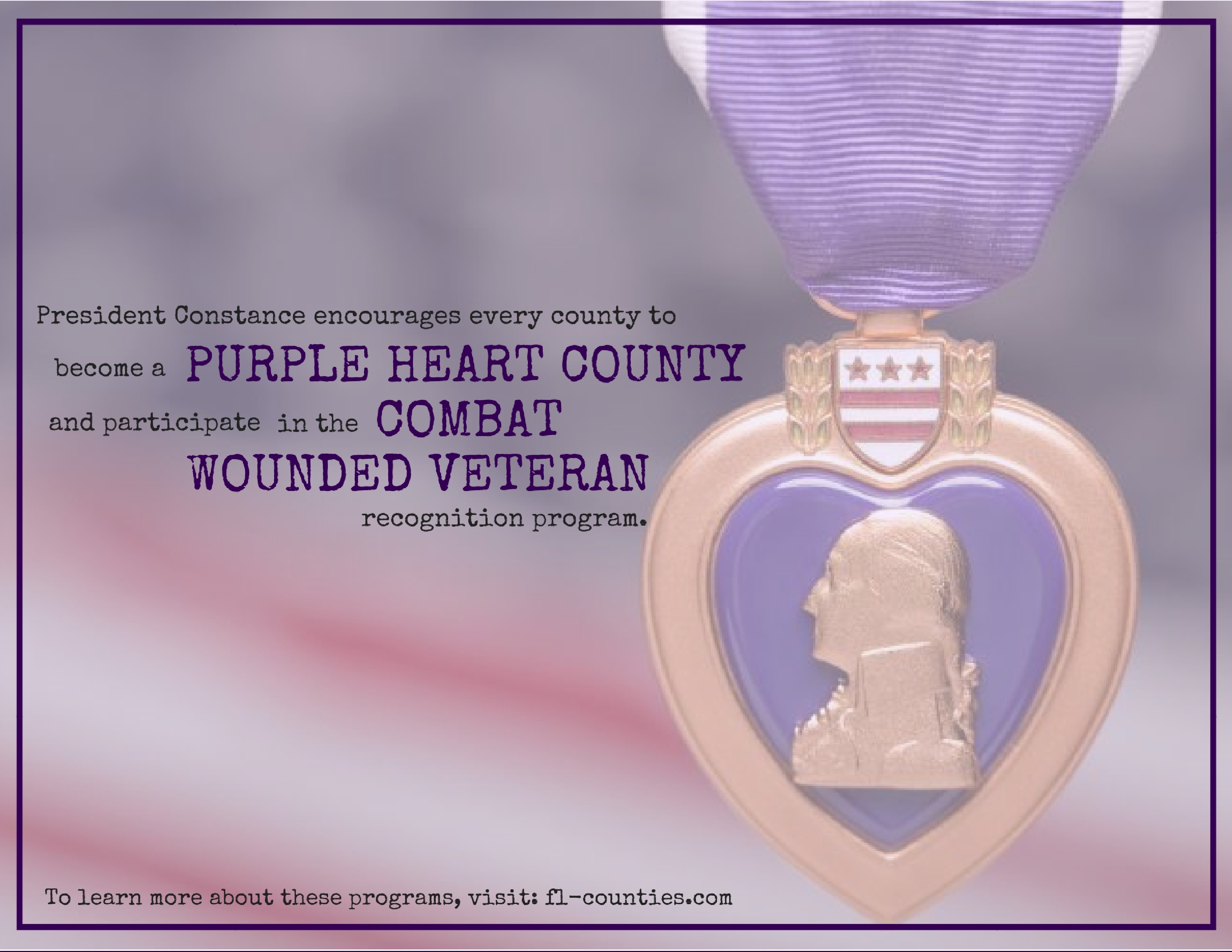 As part of his presidential initiative, FAC President Christopher Constance encourages every county to become a Purple Heart County and participate in the Combat Wounded Veterans recognition program.
A Purple Heart County is a county that recognizes those in their community who gave their lives or were wounded in combat defending our American freedom.
There are NO formal REQUIREMENTS and NO COST to receive such designation.
Currently, only 29 out of Florida's 67 counties have received the Purple Heart County designation. To see which counties have joined together to honor those who have sacrificed so much, click here.
The typical Purple Heart County process involves the city council or county commissioners issuing a proclamation explaining the county's intent, which is then presented to the local chapter of the Military Order of the Purple Heart. To see an example of a proclamation, click here. Once the proclamation is finalized, the county will host a ceremony recognizing their county's Purple Heart recipients . The military order traditionally provides the county with a plaque commemorating the occasion, a Purple Heart flag, and pins for everyone attending the ceremony. On the Military Order of Purple Heart website, there are specific guidelines relating to this process. 
The Combat Wounded Veteran Recognition program pays recognition to Purple Heart recipients for being wounded in combat. Anyone can submit a nomination, but a copy of a DD 214 form is needed to verify the award of a Purple Heart. Applications for nomination are provided by the county's veterans service office.
The nominations will first be submitted to the local veteran service office for verification of Purple Heart, then those submissions are given to the county's Veterans Council to vote. The Veterans Council Executive Board will select the top three candidates every month. The candidate receiving the most votes will have his/her nomination form forwarded to the Board of County Commissioners. The veteran will then be notified of the date, time, and place of this honor.