Sales Tax Competitiveness
In 2018, the U.S. Supreme Court ruled that states may impose taxes on entities that have a "substantial nexus" to the taxing state regardless of whether the entity has a physical presence within that state.  This overrules previous Supreme Court precedent that had prevented states from levying sales tax on sellers without a physical presence. 
Florida does not currently tax entities without a physical presence in the State.
The U.S. Supreme Court's 2018 ruling in South Dakota v. Wayfair took the unusual step of receding from a previous decision, Quill Corp. v. North Dakota, which had required a physical presence for a business' sales to be taxed in a state.  Since the Court's Quill decision in 1992, interstate transactions such as catalog sales and later, internet sales, were not taxable without the seller having some sort of physical nexus in the taxing state.  The Court did not expressly provide a new rule in place of the physical presence rule, but it did say that a sufficient nexus was established if a seller availed itself of the substantial privilege of carrying on business in the jurisdiction.  The Federal Government Accountability Office has estimated that between $8.5 billion and $13.4 billion in sales taxes revenues on remote transactions went unrealized in 2017.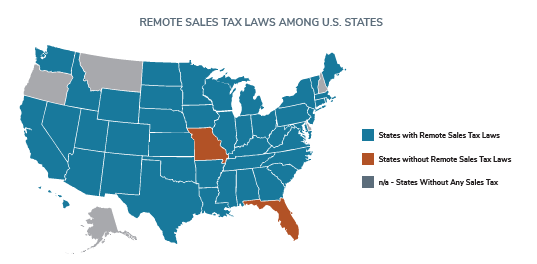 In response to Wayfair, numerous groups have called for Congress to enact federal sales tax collection legislation to standardize sales tax collections across the states so that sellers can avoid a "regulatory free-for-all."  Any federal law would likely seek to minimize the number of taxing entities within a state and require state and local sales tax uniformity.   
Whether or not Congress is able to pass legislation, 43 of the 45 states that collect sales tax have laws in place that allow them to capture sales tax revenue from remote sales.  Only two states, Missouri and Florida, are holdouts.
Impact in Florida
Currently, Florida's retailers are at a competitive disadvantage in 43 states because Florida's retailers are paying those state and local sales taxes, while vendors from those states are not paying sales tax in Florida. Passing legislation ensures sales tax fairness for local retailers.
Two bills have been filed for the upcoming 2020 session. The bills apply Florida's sales and use tax laws to online/e-commerce sales from out-of-state retailers regardless of whether the entity has a physical presence within that state. If passed, the tax will take effect after July 1, 2020.
SB 126 by Senator Joe Gruters
HB 159 by Representative Chuck Clemons
Revenue Boost Expected
The revenue implications are likely to play a greater role in states that don't have an income tax and, as a result, rely more on their sales tax to fund their budget as is the case in Florida.
Florida can expect up to a 1.7% revenue boost from this legislation.
Last session, similar legislation was filed that the State Revenue Estimating Conference projected the value of the out-of-state collections to be $702 million per year recurring in state and local revenues. 
Sales taxes account for more than half of all revenues in six states, according to Fitch Ratings. Among those six states, featured in the table below, they could see anywhere from a 1.1 to 1.7 percent revenue boost: