AMENDMENT 1:
INCREASED HOMESTEAD PROPERTY TAX EXEMPTION
The proposed constitutional amendment would increase the homestead exemption by $25,000, creating a super-exemption of $75,000 for the first $100,000 dollars of the value of homestead property for the purpose of non-school property taxes.
The exact ballot summary language reads:
"Proposing an amendment to the State Constitution to increase the homestead exemption by exempting the assessed valuation of homestead property greater than $100,000 and up to $125,000 for all levies other than school district levies. The amendment shall take effect January 1, 2019."
During FAC's Annual Conference in June, the FAC Board of Directors voted to oppose Amendment 1 in its entirety.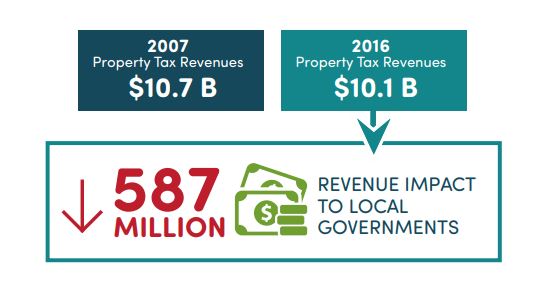 If approved by 60 percent of voters, it is estimated that the new homestead exemption would have a negative fiscal impact on cities, counties and special districts of $752.7 million in the first year. That impact would grow to $816.8 million by the fifth year.
The Additional Homestead Exemption amendment is nothing short of robbing Peter to pay Paul, and a Bait and Switch. The state is offering a "tax cut" out of the pocketbooks of local communities rather than their own. It may be called a "tax cut" but for many it will be a "tax hike" as business owners, apartment dwellers, and others will likely pay more.
This is a tax SHIFT not a tax CUT.  The tax burden will be placed on local business owners and non-homestead property owners who must choose between more taxes or fewer services.
Small counties hit the hardest: Florida's 29 fiscally constrained counties that are at or near the 10 mill cap will have no choice but to cut the limited services they are barely able to provide today.
Citizens will get less with less: The additional exemption means that counties that choose to maintain their current millage rates must make tough choices about the services provided to their citizens
HOMESTEAD EXEMPTION
Flordia's first homestead exemption was approved in 1934, when voters approved Amendment 2. The exemption was intended to help residents keep their homes during the Great Depression, according to Steve Bousquet, a reporter for the Miami Herald. Amendment 2 exempted the portion of home values between $0 and $5,000 for residents of Florida.
In 1980, the Democratic-controlled Florida State Legislature referred to the ballot Amendment 1, which increased the homestead exemption from $5,000 to $25,000. Democratic Gov. Bob Graham also promoted the ballot measure. According to the Associated Press, the increase resulted in a majority of homeowners in 20 of 67 counties, mostly located in northern Florida, not paying property taxes in 1981 because properties were assessed below the maximum exemption.
The homestead exemption for non-seniors remained the same until 2008, when voters approved a legislative referral also titled Amendment 1. Amendment 1 of 2008 exempted the portion of home values between $50,000 and $75,000 from property taxes. Between the 1980 amendment and the 2008 amendment, homeowners were eligible to receive a $50,000 exemption on their homes—the amount between $0 and $25,000 and the amount between $50,000 and $75,000.
FISCALLY-CONSTRAINED COUNTIES
As of 2018, the state constitution reserves the power to tax a property's value for local governments—such as counties, cities, school districts, and certain special districts—not the state government. Therefore, Amendment 1 of 2018 would impact the revenue of local governments, as these governments tax the value of properties and spend the revenue.
In Florida, counties that are considered fiscally-constrained counties—defined as rural counties and counties where a one mill levy would raise no more than $5 million annually—receive funds from the state government to offset decreases in revenue caused by certain homestead exemptions.
House Bill 7107 (HB 7107), passed in 2017, would require the state legislature to provide funds to fiscally-constrained counties to offset decreases in property taxes caused by the passage of Amendment 1 of 2018. State fiscal analysis estimate that fiscally-constrained counties would have revenue loses around $10.5 million annually.
Homestead tax breaks could increase, reducing Jacksonville budget
There's a chance homeowners in Jacksonville could pay less taxes through a larger homestead exemption. Voters will decide in the November elections whether to approve a constitutional amendment to save some homeowners hundreds each year and leave the city with less money to use.
Sarasota County could face budget deficits if voters OK tax breaks
Sarasota County projects balanced budgets for the next two fiscal years but fears it could face steep shortfalls in the future should voters this fall to agree to give themselves property tax breaks. County officials anticipate balanced general fund budgets in fiscal years 2018-19 and 2019-20. But they project deficits ranging from slight to significant in subsequent budget years if voters on Nov. 6 pass two constitutional amendments granting themselves property tax breaks.
Editorial: Don't increase homestead exemption
Here's another bad idea that should die quietly during these last two weeks of the legislative session. The House is poised to vote to put a constitutional amendment on the 2018 ballot that would raise the standard homestead exemption from $50,000 to $75,000, knocking a couple of hundred dollars off the typical homeowner's bill.