Florida's Newest Election Legislation  
Over the past few months following the 2020 General Election, some States have begun to act on election legislation with the goal of "tightening election security." During the 2020 General Election, Florida's voter turnout was 77%, the highest since 1980. 4,332,221 Floridan's voted early and 4,855,677 Floridan's voted-by-mail. This was the highest number of early voting and vote-by-mail in recent years, most likely, due to the COVID-19 pandemic and individuals adhering to precautions. Beginning in Georgia, Florida has proposed two bills, SB 90-Election Administration by Sen. Baxley and HB 7041- Elections by Reps. Ingoglia and Byrd. Each bill lays out a long list of security measures, vote-by-mail (VBM) restrictions, deadlines, and new rules for Supervisor of Election Offices to comply with.  
County Election Changes:   
One section of HB 7041 provides that in the next election of 2022, a commissioner residing in a single member district must be elected again, due to redistricting required every decade after the U.S. Census collection. Therefore, some commissioners in single-member or mixed districts who were elected in 2020, may have to run again in 2022 if this bill were to pass into law. This change does not affect at-large commissioners or district commissioners elected county-wide. Furthermore, Miami-Dade County and any charter county where county commissioners are subject to term limits are exempted from this provision. 
Currently, the companion legislation, SB 90 does not contain this language on county commission single-district seats. The staff analysis indicates that there is an expected indeterminate negative fiscal impact on county election offices.  
Redistricting Timeline:  
In 2020, U.S. Census data was gathered over the course of the pandemic, pushing back the typical deadlines to make sure that the Bureau was accounting for the majority of the U.S. population. In a normal decade year, the U.S. Census would deliver its first round of redistricting data by March 31, 2021. However, due to the delays caused by the pandemic, state population counts for apportionment to the President have a deadline of April 30, 2021. While redistricting data to the states and public will be made available by September 30, 2021. To learn more about the U.S. Census Bureau Redistricting timeline visit: Timeline for Releasing Redistricting Data (census.gov)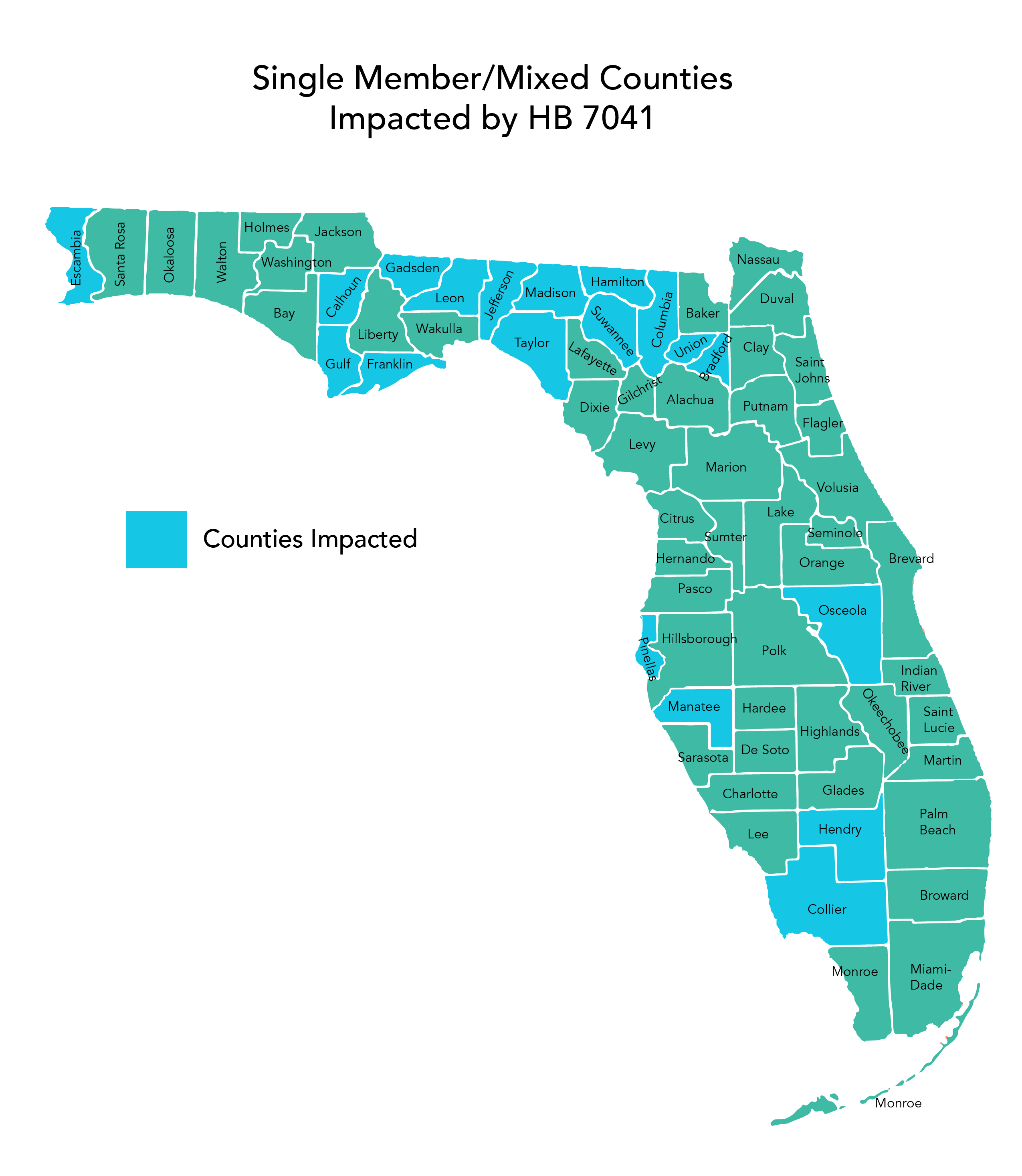 *NOTE: Both bills are making their way through the committee process and are subject to change. SB 90 was heard in Senate Rules this week and amendments were adopted that changed some of the language within the bill. However, the Committee ended on schedule and the bill was temporarily postponed. SB 90 is on the Senate Rules Committee agenda to be heard again on Tuesday, April 20.