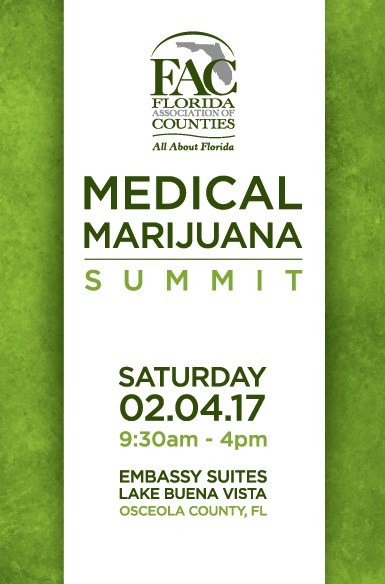 Join local government officials from across the state to discuss the issues surrounding the legalization of medical marijuana and implementation of Amendment 2 in Florida.  In accordance with our mission, FAC is focusing on education and collaboration to bring together industry and policy experts to provide insight into Florida's emerging medical marijuana industry, discuss challenges arising in other states, provide alternative approaches to local regulations, and an update on proposed legislation and state rulemaking.
Click here to download the agenda
Click here to view the speaker presentations
Where are we now:  Director for the Florida Department of Health's Office of Compassionate Use Christian Bax will update attendees on steps taken so far by DOH in regulating and implementing medical marijuana dispensaries in the state of Florida. Learn more here!
From Seed to Sale:  Learn from medical marijuana industry experts about all aspects of the business, including cultivation, processing, and distribution. 
Lunch & Lessons: Executive Director for Excise and Licenses with the City and County of Denver, Colorado Ashley Kilroy shares her experiences implementing local government regulations for medical marijuana in Denver. Learn more here!
Keeping the Peace: The creation of a limited market for an otherwise prohibited substance will necessarily have local government and public safety impacts.  Join law enforcement and local government experts as they discuss some of the challenges and solutions to maintaining safety in your community.
Making the most out of local control: County attorneys from Alachua and Sarasota counties will share their diverse experience from drafting a regulatory ordinance to preserving a moratorium. FAC General Counsel Ginger Delegal will serve on the panel to discuss interpretations of Amendment 2 and its impact on local control.  The panel will discuss local government approaches to zoning, ordinances, moratoriums, revenues and fees. Learn more here!
The State's Take:  Join state officials as they discuss legislation under consideration during the session and the rulemaking process already under way as a part of existing medical marijuana statutes.
Continuing Education Credits
Certified County Commissioner
Summit qualifies for 3 hours of elective CCC credits
Torchbearer
Summit qualifies for 15 Torchbearer Points for County Commissioners.
The Florida Bar
Attendees will recieve 6.5 Continuing Legal Education credits
American Planners Association: Florida Chapter
Members of the AICP will recieve 8 AICP CM credits - one of which meets the legal tally.