Clerk Responsibilities and Innovation  
The COVID-19 pandemic has impacted many of our local government services, one hard hit service is our County Clerks of the Courts. Clerks are responsible for numerous duties ranging from attending court hearings and trials, processing civil and criminal cases, collecting fines, court cost, fees, issuing marriage licenses, handling investments of county funds, and many more duties. Due to the pandemic, our courts adapted to new procedures, while funding remained tight. The Clerk's office established new courthouse entry procedures, mask enforcements, health screenings, social distancing, and innovation through technology. Clerks found innovation through drop boxes for payments and filings. Particularly, in Alachua County drive-thru windows for marriage licenses and ceremonies.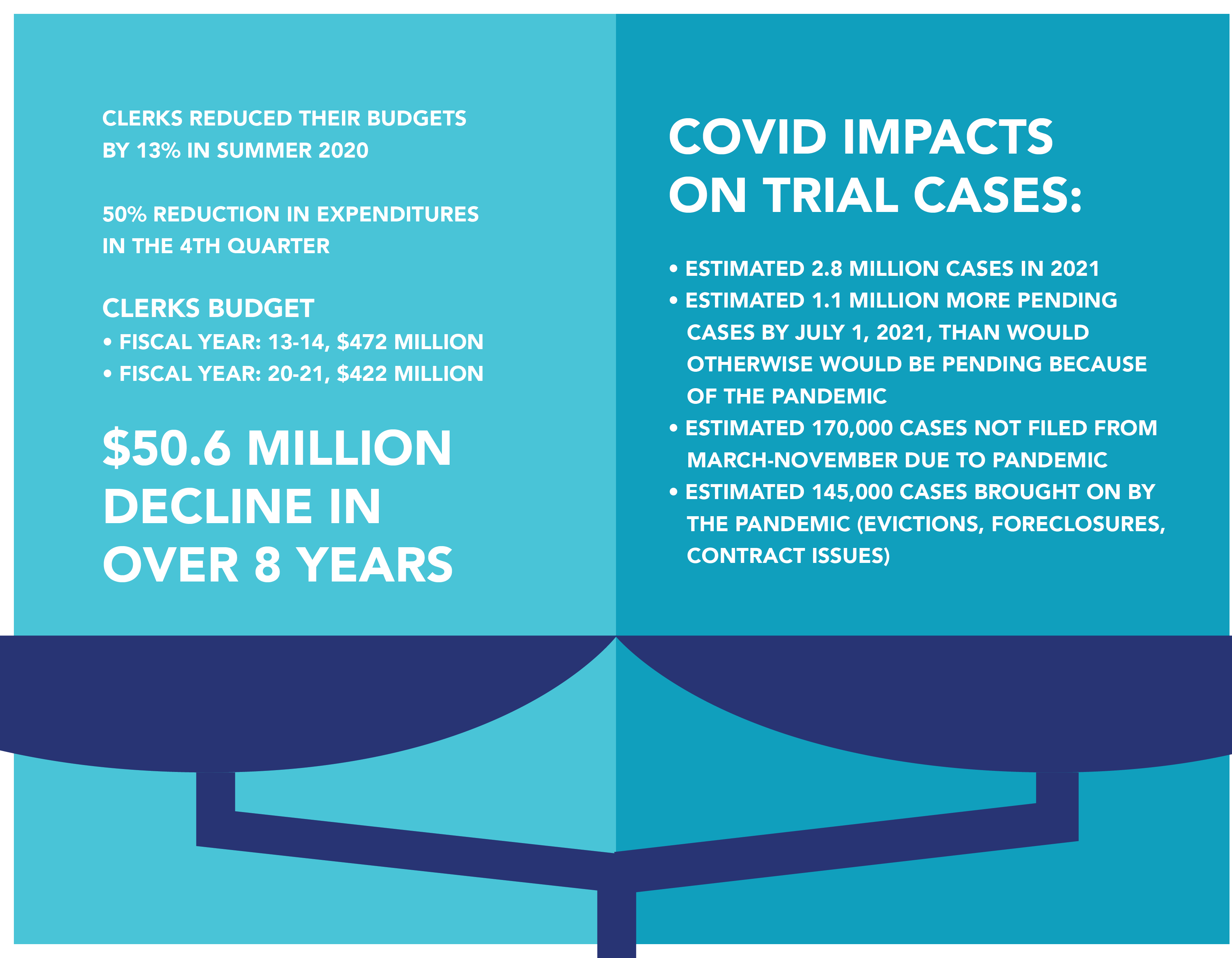 Through hardships, Clerks found the means to use existing technology, like self-help pages and online payment; developed new technology, such as telework for employees, remote technology for customer service and hearings, virtual lines via text messages, and online customer support chats; and collaborated with partners in the community to ensure services continued throughout the pandemic.  
Legislation to Address Budget Reductions 
Over the past few years, the Clerks budget has steadily decreased, leading to staff shortages, funding dilemmas, and delays in services. Clerk services are funded through fines, fees, court costs, and service charges. As these revenues are decreasing, the duties of Clerk's are increasing. The Florida Clerks are urging lawmakers to create statewide reserves to plan for emergencies (natural disasters/pandemics), more payment options, and improved procedures for funding request outside of normal revenue streams and to carry forward revenues yearly. 
Long-Term Impacts into 2021 
COVID-19 has created a burden on our court systems as cases are delayed and are expected to be into the future. Due to the additional caseloads caused by delays and new cases filed because of the health and economic crisis, courts are expected to see high volume of new cases. The accumulation of cases, new and old, will equal more responsibilities on our Clerks of the Court. Clerks are calling for additional funding and resources to support their local communities. 
For more information on the 2021 Clerk Legislative Priorities, visit At Your Service - Florida Court Clerks & Comptrollers (flclerks.com). 
To view the full presentation from the Chief Justice of the Florida Supreme Court Charles T. Canady and Clay County Clerk Tara Green, click here.