Confidence in Local Government
Founding Father and America's third president, Thomas Jefferson, is quoted as saying, "The government closest to the people serves the people best." While many ideas, policies, and government institutions themselves have changed mightily since the dawn of the American Republic, this sentiment has withstood the test of time. Americans tend to place greater confidence in their local government more so than their state and federal counterparts.
Gallup Results
For over 20 years, Gallup has produced a survey each year of the "American public's trust in the three branches of federal government compared with trust in state and local government." For nearly each year of the survey, local government outpaces state government in respondents indicating a "great deal" or a "fair amount" of trust. The surveys also show a strong decline in state government trust following the Great Recession with modest gains since that decline. Additionally, local government trust also transcends party lines with Republicans, Independents, and Democrats all supporting local government at high rates.
This polling supplements a series of Gallup polls showing the decline of support for other institutions — such as the media, federal agencies, or the executive branch of the federal government.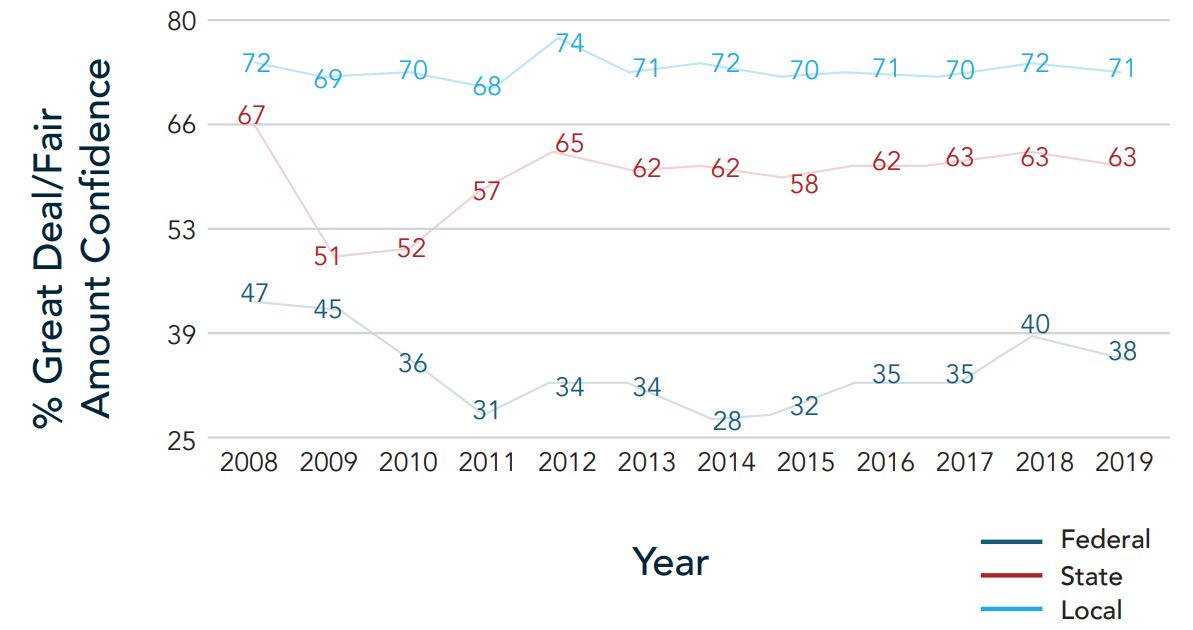 Why Keep It Local?
LOCALISM PRESERVES THE RIGHTS OF COMMUNITIES
The attack on home rule threatens to undermine the rights of Floridians to have an accessible and efficient government that reflects their values.
LOCALISM ALLOWS BUSINESS TO BE ACCESSIBLE AND NIMBLE
Businesses should not be forced to navigate the state legislative process for minor matters that are easily addressed at the local level. This is particularly problematic for small businesses, which may lack the resources to pursue matters legislatively. Local governments are the most accessible venue to resolve business concerns because they are closest to the people and most familiar with their communities.
LOCALISM ALLOWS FOR REGULATORY CERTAINTY
Florida's statues and case law has evolved under the home rule system. Upending that body of law will have far-reaching, unintended consequences. Businesses are conservative by nature, and economic uncertainty discourages investment and innovation. Even specific preemptions often have unintended consequences and frequently result in litigation.