Blockchain Technology Legislation in 2019
On September 23, 2019, the Florida Blockchain Task Force met for the first time to discuss future impacts of the technology. Days later, Florida's Chief Financial Officer, Jimmy Patronis, has made it clear that the state needs to further explore the field of blockchain technology to prepare for the disruptive technology and capitalize on its economic potential. In the past three years alone, blockchain technology has become an increasingly hot topic for state and local governments as they consider how to best use these new forms of distributed ledger systems.
Most commonly known for its use in cryptocurrencies, such as Bitcoin, blockchain has ramifications for local governments in more administrative ways. Counties and cities are weighing its propensity for transparent auditing and cost-effective management with uses such as smart contracts, land & property registries, vital records, voting systems, and collecting taxes. 
The immutable nature of blockchain data makes the technology useful for preventing fraud and protecting sensitive records. Meanwhile the decentralized system helps to ensure safekeeping of information from outside attacks. Also the automated criteria that could be incorporated makes systems simple and transactions immediate without the need for human guidance.
After the signing of Senate Bill 1024 (2019), Florida established its own Blockchain Task Force to examine these benefits and potential challenges. In 2019 alone, there were 30 bills or resolutions across the country signed into state law or adopted. Most of the legislation was to establish state tasks forces to explore blockchain's uses for government.
Successful legislation was spread amongst a diverse group of 18 states in terms of political alignment, economics, and culture. To see a more complete breakdown of all 2019 blockchain legislation, please visit the National Conference of State Legislatures here.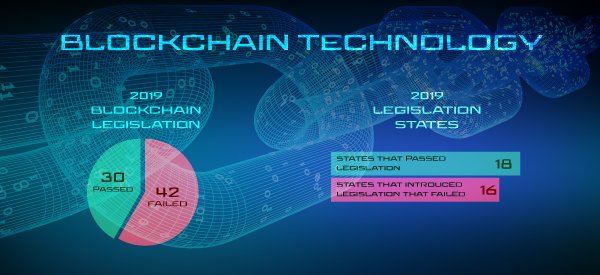 In previous years, legislation was passed such as in 2016 when Vermont laid the groundwork for evidentiary standards of blockchain records authenticity or in 2017 when Arizona made it illegal to track firearms purchases using blockchain. As the state of Florida considers its role in this new field, consider just some of the policies passed in other states in 2019, and how it may be applied, or be restrictive, to local government. 
Arizona - HB 2747 & HB 1944
Appropriates $2.5 million to research centers focusing on technology such as blockchain. Recognizes smart contracts as legal documents.
Delaware - SB 90
Creates statutory authority for Delaware partnerships to use distributed ledgers and blockchain.
Illinois - HB 3575
Permits use and provides limitations for blockchain. Preempts local governments from implementing specific restrictions.
Kansas - HB 2038, Maryland - SB 136, Nevada - SB 163, Texas - HB 3608
Allows for various business entities, corporations, and LLC's to utilize blockchain for the purpose of records keeping.
Nevada - SB 162
Protects right to privacy of individual data in public blockchain databases. Requires government agencies to accept certified blockchain records in certain circumstances. Preempts local governments from taxing or restricting the use of blockchain.
Washington - SB 5638
Allows for blockchain or distributed data ledgers to be granted legal effect and enforceability.
Wyoming - HB 185
Permits corporations to use certificate tokens in lieu of stock certificates in specified circumstances.
FAC Contact? 
Not quite sure what blockchain is, or interested in more? Contact Shane Roerk at sroerk@fl-counties.com.