Amendment 9:
Prohibits Offshore Oil and Gas Drilling; Prohibits Vaping in Enclosed Indoor Workplaces
The proposal would prohibit drilling for gas and oil in state coastal waters and ban vaping and the use of electronic cigarettes in workplaces.
The exact ballot summary language reads:
"Prohibits drilling for the exploration or extraction of oil and natural gas beneath all state-owned waters between the mean high water line and the state's outermost territorial boundaries. Adds use of vapor-generating electronic devices to current prohibition of tobacco smoking in enclosed indoor workplaces with exceptions; permits more restrictive local ordinances."
EXECUTIVE ORDER OF OFFSHORE DRILLING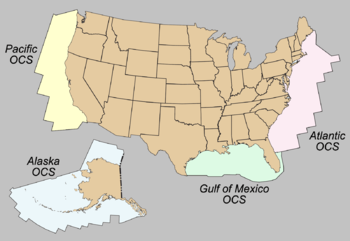 Map of the Outer Continental Shelf
On April 28, 2017, President Trump signed an executive order directing the U.S. Department of the Interior to revise the Obama administration's 2017-2022 leasing plan for offshore oil and gas drilling in the Arctic, Atlantic, and Pacific oceans. In December 2016, then-President Barack Obama(D) issued a moratorium on all new oil and gas drilling in approximately 120 million acres in the Arctic and Atlantic oceans. Trump's executive order lifted this moratorium. "Renewed offshore energy production will reduce the cost of energy, create countless new jobs, and make America more secure and far more energy independent," Trump said at the signing ceremony. Under the order, U.S. Interior Secretary Ryan Zinke instructed the U.S. Bureau of Ocean Energy Management (BOEM) to expedite consideration of oil and gas company applications to conduct seismic testing for oil and gas resources and to review existing federal regulations on offshore oil and gas drilling for revision or repeal.
On January 4, 2018, Interior Secretary Zinke announced a draft program to make over 90 percent of the total U.S. Outer Continental Shelf acreage available oil and gas exploration and development. The proposal included 47 potential lease sales, with 12 in the Gulf of Mexico and nine in the Atlantic Ocean. Zinke said the plan included the "largest number of lease sales ever proposed."
Secretary Zinke said he was exempting Florida from the draft program to open parts of the Gulf of Mexico and the Atlantic Ocean to oil and gas exploration. On January 9, 2018, Zinke met with Florida Gov. Rick Scott (R), saying, "I support the governor's position that Florida is unique and its coasts are heavily reliant on tourism as an economic driver." During a discussion with the U.S. Senate Natural Resources Committee on March 13, 2018, Zinke said that Florida was not included in the draft program, but that a final decision had not been made and a final proposal would be released in fall 2018.
Linking bans on oil drilling, vaping draws criticism
Florida's leading oil and gas lobbyist is brushing up on electronic cigarettes and vaping. David Mica, executive director of the Florida Petroleum Council, called it "surreal" and "bizarre" to watch the Florida Constitution Revision Commission this week overwhelmingly approve a proposed constitutional amendment that would combine a ban on nearshore oil and gas drilling with a ban on vaping and electronic cigarettes in workplaces.
Drilling, vaping bans headed to November ballot
Voters will get a chance to decide this fall whether to ban nearshore oil and gas drilling and prevent people from vaping or using electronic cigarettes in many public places, under a proposed constitutional amendment approved Monday.
Amendment 9 will harm Florida's energy future| Guest column
Floridians face a long list of constitutional amendments on the ballot this November. A majority will come from the Constitution Revision Commission, a group that meets once every two decades. While some constitutional revisions are much needed, others are duplicative and unnecessary. Amendment 9 is one of the latter. This proposed revision permanently prohibits offshore discovery and drilling in Florida's state waters.