Affordable Housing
Affordable housing is a continual obstacle for Floridians. As it stands, a full-time hourly worker making minimum wage, $8.46, would need to work 108 hours a week to afford a modest two-bedroom rental. Meanwhile, the average housing wage, or the hourly wage when full time workers spend no more than 30% of income on housing expenses, for Florida is $22.86 an hour.
By comparison 67% of Floridian jobs make less than $20 an hour. Currently, the rent affordable for one person at the minimum wage is $440 a month, while fair market rent for a modest two bedroom is $1,189. Advocates from all corners of Florida including the Florida Realtors, Homebuilders, Chamber of Commerce, Legal Services, and Conference of Catholic Bishops have joined together to form the Sadowski Coalition to advocate for struggling Floridians.
The Florida Association of Counties (FAC) supports appropriating the full amount of dedicated documentary tax revenues from the Sadowski housing trust funds to fund state and local affordable housing programs, and opposes the Legislature transferring unappropriated funds from the housing trust funds to general revenue or other uses. If fully appropriated, the Sadowski Coalition projects 30,000 new jobs would be created with an over $4.4 billion economic impact.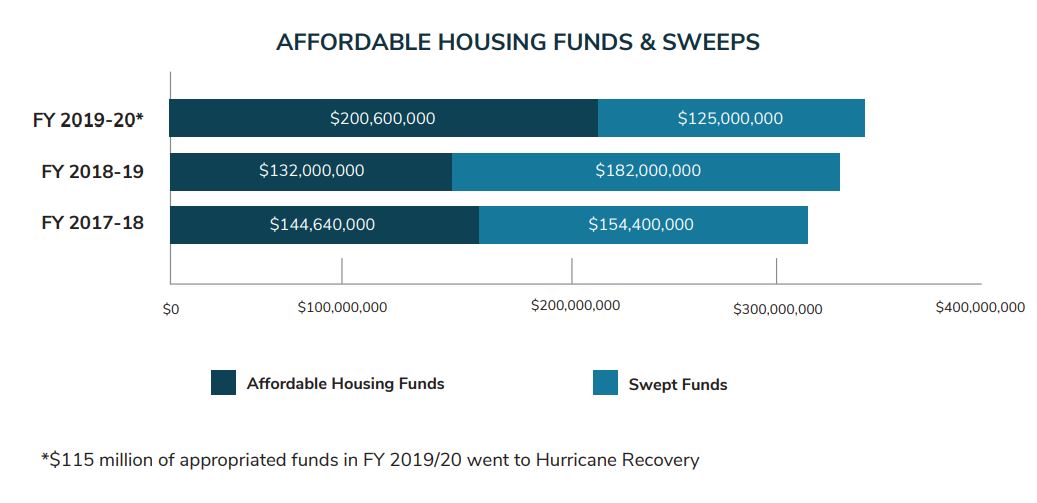 While Florida law provides for a dedicated funding source for affordable housing programs to ease this burden, the Legislature routinely raids these trust funds when building the annual state budget. For the 2020-21 Fiscal Year, there is a projected $352 million of available Sadowski funds. The Legislature has swept funds – partially or totally – from the housing trust funds every year since the 2008-09 fiscal year into the General Revenue fund for various unrelated projects. The 2020-21 Legislative Session is projected to have over $350 million in available funds. 
Background:
Enacted in 1992, the William E. Sadowski Affordable Housing Act provides a dedicated revenue source for the State and Local Housing Trust Funds. The programs are funded through the state's documentary tax on real estate transactions. Seventy percent of fund proceeds go into the Local Government Housing Trust Fund for the State Housing Initiatives Partnership (SHIP) Program, which allocates funds to local governments (counties and larger cities) for housing programs that produce and preserve affordable homeownership and multifamily housing for very low, low and moderate-income families. Thirty percent of fund proceeds go to the State Housing Trust Fund for programs such as the State Apartment Incentive Loan (SAIL) Program.