The Florida Legislature passed the General Appropriations Act (GAA) for State Fiscal Year 2017-2018 on May 8th. The "State Budget" as it is known, and associated conforming and implementing legislation, are all subject to approval by the Governor, who can veto either the entire budget, entire bills, or individual spending items. The Legislature can override the Governor's vetoes with a two-thirds vote each in the Senate and the House of Representatives.
The Legislature's proposed budget for State Fiscal Year 2017-2018 totals approximately $82.42 billion, and represents a $260 million increase over the 2016-2017 State Budget. The chart below summarizes a comparison of the current year 2016-2017 State Budget and the proposed State Budget for 2017-2018 beginning July 1, 2017.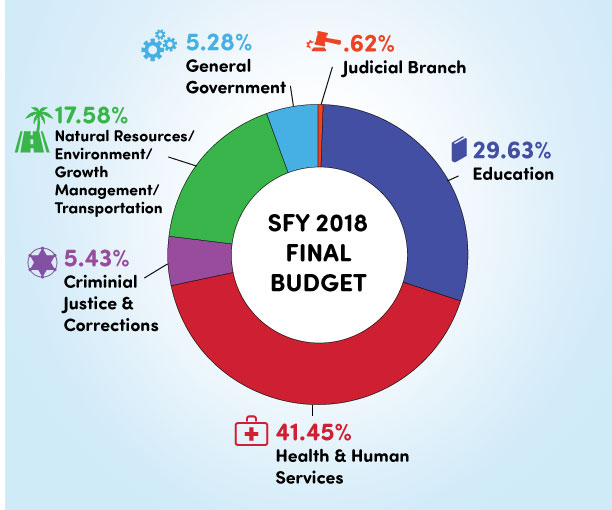 Once again, Health and Human Services received the largest portion of funding, totaling approximately $34.2 billion.  However, this represents a 0.39% decrease in appropriations from the current year.  All educational programs and services combined received the second largest amount of funding, totaling more than $24.4 billion.  This represents an increase of approximately 2.65% from the current fiscal year.  Finally, Natural Resources, Environmental Issues, Growth Management and Transportation Expenditures represent the third largest portion of the SFY 2018 budget with funding nearing $14.5 billion, representing a 4.19% decrease from the current fiscal year.
Proposed general revenue appropriations for 2017-2018 total more than $30.9 billion and trust fund appropriations total approximately $51.5 billion.  The chart below compares appropriations between 2016-2017 and the proposed 2017-2018 budget by fund type.

2017-2018 Proposed State Budget – County Funding Highlights
Health and Human Services
$723 million is provided to the Department of Children and Families (DCF) for Community Substance Abuse and Mental Health Services, an approximate $15 million increase over current year funding.
$9 million for the Public Safety, Mental Health, and Substance Abuse Local Matching Grant Program, which supports county programs that serve adults or youth who are in behavioral crisis and at risk of entering the criminal justice system.  This is equal to the current year funding. 
$19,500,000 to support Community Action Treatment (CAT) teams, which provide community-based services to children (aged 11 to 21) with mental health and/or substance abuse diagnoses.  $17.25 million of these funds are directed to support existing CAT teams, while an additional $2.25 million in new, nonrecurring funds will support three new CAT teams in Charlotte, Volusia, Flagler, Leon, Gadsden, and Wakulla Counties.
More than $8.8 million is appropriated in DCF for homeless programs; of this total, $5 million is directed to award challenge grants to lead agencies of homeless assistance continuums of care, while $3 million is provided to local homeless coalitions throughout the state, and the remaining funds are directed to specific shelters and transitional housing projects.
$1.9 million is appropriated to the Department of Health to hire an additional 21 epidemiologists at county health departments to serve as their community's strategic health improvement experts on communicable diseases, environmental concerns, and primary care services.
Public Safety 
The proposed State Budget estimates the counties' portion of total Shared County/State Juvenile Detention to be $61,615,811.  This represents an estimated increase of $1,418,365            from the 2016-2017 current year budget and 49.99% of the total funding for Juvenile Detention (consistent revisions made to s. 985 during the 2016 legislative session). 
$3,883,853 is appropriated for fiscally constrained funding offset for juvenile secure detention, which is equal to the level of funding in 2016-2017.
$3,120,793 in funding aid to local criminal investigation laboratories (crime labs), this is equal to the current year funding.
Delinquency Prevention Programs are budgeted at a total of $79.5 million, which is equal to the current 2016-2017 year funding.  Included in this is $2.8 million in new funding for PACE Centers for Girls, bringing the total funding for the PACE programs to more than $19 million.
Agricultural and Environmental
Beach projects: $50 million is provided for grants and aids to local governments and non-state entities for beach management assistance, which represents an increase of nearly $18 million over the current year funding.
$13.3 million in General Revenue for beach recovery funds to be used for beach and dune repair and restoration projects in areas damaged by Hurricanes Matthew and Hermine.  The funds will cover up to 50 percent of total project costs, to be matched by other federal or local funds.  These funds are in addition to unobligated funds provided through Executive Orders by the Governor.
Springs restoration: $50 million from the land acquisition trust fund is provided for land acquisition to protect springs and for capital projects that protect the quality and quantity of water that flow from springs. This is equal to the current year level of funding.
$3 million for Small County Solid Waste Management grants, $13 million for Small County Wastewater Treatment grants, and $1.7 million for Local Parks.
Mosquito control programs: More than $2.7 million, which is an increase of more than $100,000 compared to the current year funding level.
Drinking water facility construction revolving loan program: $97,645,073 ($6,888,200 from General Revenue; $90,756,873 from Drinking Water Revolving Loan Trust Fund). This is an $6.7 million decrease compared to the current year 2016-2017 budget.
Wastewater revolving loan program: $142,688,031 ($6,540,800 from general revenue; $136,147,231 from the wastewater treatment and storm water management revolving loan trust fund).  This is approximately $8.5 million less than the current year's funding level.
  Transportation and Economic Development
Small County Outreach Program (SCOP) funding is appropriated at $64.4 million, which is approximately $4 million lower than the current year funding
The Small County Road Assistance Program (SCRAP) continues to see reduced funding as the budget appropriates $30.1 million for the program, which is $13 million less than the current budget.
The County Incentive Grant Program (CIGP) receives a slight bump in funding and is appropriated at $54.5 million.
Affordable Housing Programs receive $250 million total. Of this total, $150 million is for the State Housing Initiatives Partnership (SHIP), $50 million is for the State Apartment Incentive Loan (SAIL) program, $10 is million for competitive grants for housing developments designed for persons with developmental disabilities, and $40 million is for workforce housing for low-income persons and certain households in the Florida Keys.
General Government
Library funding is appropriated at $28.3 Million, which is an increase of more than $3 million over the current year allocation.
$25.6 million in fiscally constrained county funding to offset the impacts of previously approved constitutional amendments.
$22.3 million in emergency distributions revenue sharing for small counties.
2017-2018 State Budget – Implementing and Conforming Bills
Implementing and Conforming bills make certain changes to substantive law in order to implement the proposed State Budget.   
Conforming Bill provisions of interest:
1.     Conforming Bill SB 2514 Relating to Health Care:
Imposes an annual deadline of October 1 for the Agency for Health Care Administration to certify local contributions of funds for the Low Income Pool (LIP), Disproportionate Share Hospital (DSH), and similar Medicaid programs. This means that local governments wishing to voluntarily contribute funds toward such programs have until October 1 of each year to make their contributions.
Appropriates $1.5 billion for the LIP program for the 2017-2018 year. The funds are placed in reserve contingent on federal approval and a proposed distribution of funds to reimburse hospitals for charity care they provide to uninsured individuals with incomes below 200 percent of the federal poverty level.
Authorizes new Program for All-inclusive Care for the Elderly (PACE) programs to serve up to 300 senior citizens in Gadsden, Jefferson, Leon, and Wakulla Counties, up to 300 more senior citizens in Indian River, Martin, Okeechobee, Palm Beach, and St. Lucie Counties.
2.     Conforming Bill HB 5501 Displaced Homemakers:
Appropriates $25 million for Visit Florida's operations. This is $50 million less compared to the current year. Appropriates $16 million for Enterprise Florida's operations, but no funding for business incentives to attract out-of-state companies to Florida.
Limits individual employee compensation at both entities to no more than the Governor's annual salary ($130,000), and requires Senate confirmation of new agency CEOs. New contracts entered into by the agencies must be posted on Transparency Florida—a website maintained by Florida Chief Financial Officer—and all contracts of $750,000 must receive legislative approval.
3.      Conforming Bill SB 7022 State-administered Retirement Systems modifies employer contribution rates to the Florida Retirement System (FRS):
Required employer contribution rates for each membership class of FRS (Defined Benefit and Defined Investment) are amended as follows: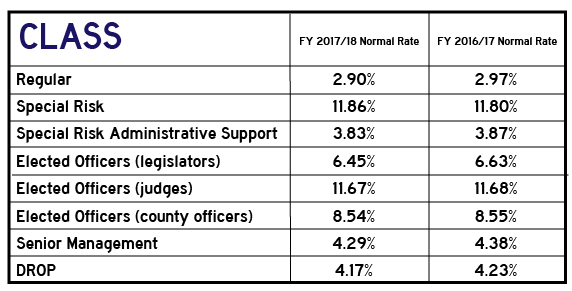 To address unfunded actuarial liabilities (UAL) of the system, the bill amends the current employer contribution rates for each membership class of FRS as follows: