Florida Trust -- Short Term Bond
What it Is
Launched in 1992 and sponsored by the Florida Court Clerks and Comptrollers and the Florida Association of Counties, the Florida Trust is the longest running member-owned and member-governed local government investment pool in Florida. The Short Term Bond Fund portfolio structure is designed to add value over short term alternatives such as money market funds, while maintaining safety of principal and liquidity. The Florida Trust Short Term Bond Fund was the third local government investment pool in the nation to receive a rating from Standard & Poor's. Its bond fund risk is S-1 and it maintains an AAA credit quality rating.
Key Features
As of July 2016, the Florida Trust managed $1,010,050,564.08 for participating local government entities.

The Florida Trust is an intergovernmental investment pool created by interlocal agreement under F.S. 163.01. Authorized investment under Florida law, F.S. 218.415 (16) (a).

AAA-rated by S&P and structured to maintain liquidity, safety of principal, and maximize available yield through a balance of quality and diversification.

Invests primarily in U.S. Treasuries, Mortgages, Commercial Paper, Government Related Securities, Asset-Backed Securities rated AAA or A-1, and Corporate Bonds rated A or better by Standard and Poor's.

Variable Net Asset Value (NAV)—The fund will provide return in the form of share value; the NAV will fluctuate in value based on market conditions.

Next day liquidity – There are no withdrawal restrictions.

Online Account Access – Secure access to view your account(s) and access download statements online.
How Many Counties Use It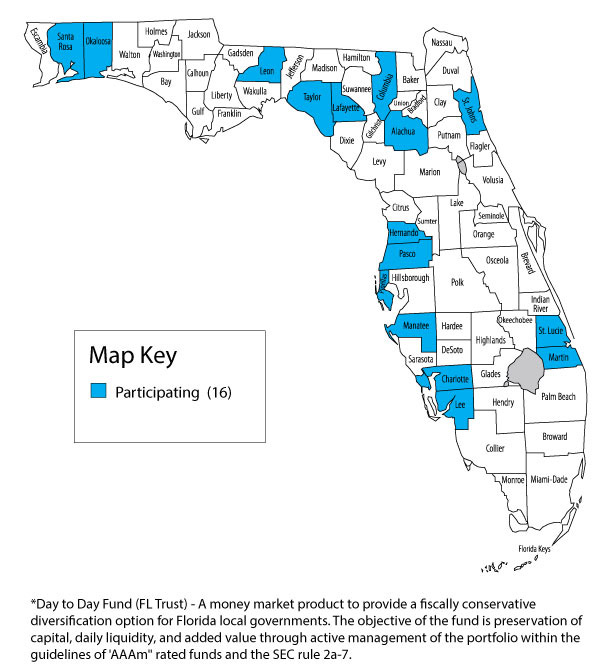 Meet the Partner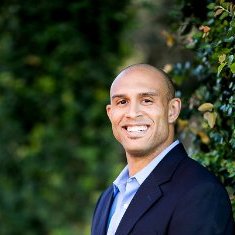 Zach Falconer
Client Relationship Representative
Zach Falconer is a Client Relationship Representative for the Florida Local Government Investment Trust (Florida Trust). He has over 10 years' experience in client service. He attended Northeastern University on a football scholarship and has an undergraduate degree in Communications. After a stint with the NFL's Oakland Raiders, he pursued graduate school at the University of Central Florida where he received a Master's in Business Administration.
Prior to joining the Florida Trust, Zach was a Relationship Manager for a boutique consulting and personnel management company located in the Central Florida Research Park. He has also served as Manager of a statewide in-school marketing program.
His favorite pastimes include exercising, reading and traveling - and he resides in Orlando with his wife Kerry, daughter Zofia and dog Tucker.
Resources
For more detailed information, please visit the Florida Trust web site
Contact Info
Florida Trust
Zach Falconer
zfalconer@civiteksolutuions.com
(850) 577-4610
FAC
Anna R. Doughty, CPA
Director of Internal Affairs & Financial Services
(850) 922-4300

A General Election is held in November of every even-numbered year. A Primary Election occurs 10 weeks before the General Election to nominate party nominees to be voted for in the General Election to a national, state, county, or district office. Check back to see the primary and general election results for every county!