Governor Ron DeSantis released his recommended budget for State Fiscal Year 2019-2020 on February 1st. The Governor's Recommended State Budget serves as an important starting point as both the Florida House of Representatives and the Florida Senate begin work on developing their own proposed State Budgets. Passing a State Budget, officially titled as the General Appropriations Act, is the one piece of legislation that the Florida Legislature is constitutionally required to pass every annual regular session.
 
The Governor's recommended budget for State Fiscal Year 2019-2020 totals approximately $91.3 billion—a $2.6 billion increase over the 2018-2019 State Budget. The chart below summarizes a comparison of the current year 2018-2019 State Budget and the Governor's Recommended State Budget for 2019-2020 beginning July 1, 2019.

Health and Human Services receives the largest portion of funding, totaling more than $37 billion for what would be the second year in a row.  All educational programs and services combined received the second largest amount of funding, totaling more than $26.1 billion.  This represents an increase of approximately 3.5% from the current fiscal year. 
Finally, Natural Resources, Environmental Issues, Growth Management and Transportation Expenditures represent the third largest portion of the SFY 2018 budget with funding just under $14.8 billion, though this is the only area of the budget to see a recommended reduction in funding compared to the current year.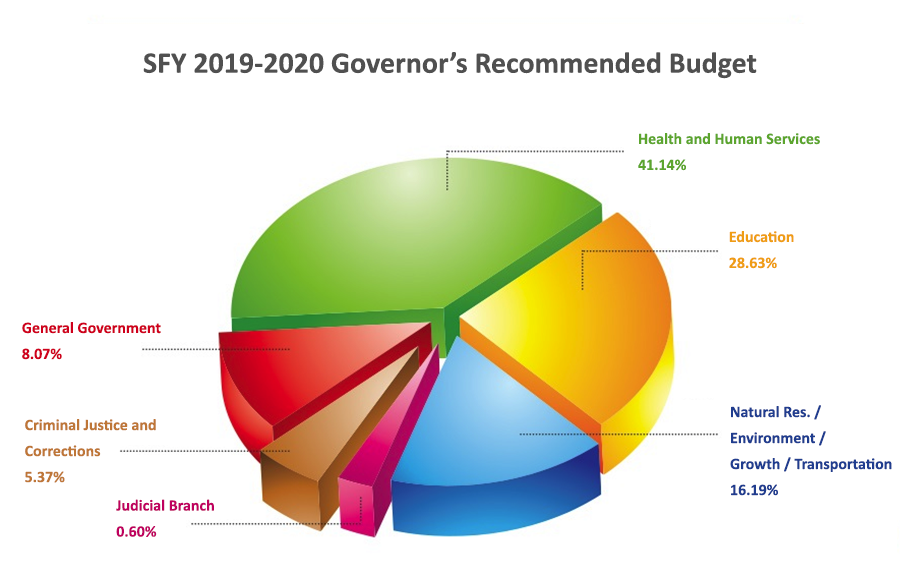 Recommended General Revenue appropriations for 2019-2020 total nearly $33.8 billion and trust fund appropriations total approximately $57.5 billion.  The chart below compares appropriations between the current 2018-2019 year and the Governor's recommended budget for the 2019-2020 year by fund type.
Santa Rosa Press Gazette
Gov. DeSantis unveils largest budget proposal in state history
TALLAHASSEE – Republican Ron DeSantis unveiled his first budget proposal Friday as Florida governor – a $91.3 billion spending package that boosts dollars for schools, the environment and hurricane recovery, while keeping the engine of state government fueled with fresh cash.
County Funding Highlights
Health and Human Services
$84.6 million in total funding to fight the opioid epidemic in Florida. This includes $49 million in federal funding through the State Opioid Response Grant, which supports evidence-based prevention, medication-assisted treatment and recovery. $1.3 million is also provided to the Florida Department of Health for increased epidemiology and surveillance to prevent and reduce opioid related morbidity.
$799 million is provided to the Department of Children and Families (DCF) for Community Substance Abuse and Mental Health Services.  Included in this funding are $6.7 million to expand Community Action Treatment (CAT) Teams and $4.2 million to expand Family Intensive Treatment (FIT) Teams. CAT Teams provide community-based services to children (aged 11 to 21) with mental health and/or substance abuse diagnoses. FIT Teams provide similar services for parents of children ages 0-10 where the children have been determined to be unsafe. The budget also provides $4.2 million for 48 additional forensic community transition beds and $3 million for expanding civil bed capacity.
$1 million in funding is provided to assist approximately 500 individuals with developmental disabilities in obtaining employment. Another $1.5 million is provided to assist approximately 550 individuals with behavioral health needs in obtaining employment.
New funding for child welfare includes $42.9 million for safety management services, child protective investigations, foster care parents, and early intervention efforts for substance affected infants; and an additional $30.7 million for maintenance adoption subsidies and post adoption services for children adopted through the foster care system.
Public Safety
More than $31 million is provided for prevention programs for at-risk youth and $3.2 million to improve the supervision of youth who are awaiting adjudication while in the community.
More than $8.9 million to continue the operation of problem-solving courts throughout the state. Problem-solving courts—such as drug courts and mental health courts—use specialized dockets, multidisciplinary teams, and a non-adversarial approach to address root causes of justice and reduce recidivism.
Environment 
A total of $625 million in funding is provided for Everglades restoration and protection of valuable water resources. Included in this funding are $360 million for Everglades restoration projects, $107 million (an increase of $43 million) for the EAA Reservoir Project, and $40 million to complete the final to expedite the completion of the Tamiami Trail, which will restore the flow of more than 900 million gallons per day of water south.
$50 million continues to be funded from the Land Acquisition Trust Fund for fixed capital outlay to help with springs restoration.
$50 million is provided for the Beach Management Funding Assistance Program (BMFAP), which offers grants and aids to local governments and non-state entities for beach management assistance
$13 million in federal grants are provided for small county wastewater treatment grants.
$100 million is provided in the Florida Forever Trust Fund.
Related News Articles:
Transportation and Economic Development
$105.5 million is provided for affordable housing through the State Housing Trust Fund, and another $246.9 million is provided through the Local Government Housing Trust Fund. The Recommended Budget also includes proviso language stating that local governments receiving these funds through the State Housing Initiative Partnership (SHIP) shall prioritize funding to assist with hurricane housing recovery before routine and customary use of funds.
$29.8 million is continued through the State Transportation Trust Fund for the Small County Resurface Assistance Program (SCRAP).
$72 million is provided through the State Transportation Trust Fund for the Small County Outreach Program (SCOP), which funds transportation projects within rural areas of opportunity (ROAs).
$85 million in General Revenue is provided for the Job Growth Grant Fund, which is equal to the current year level of funding.
General Government
$19.5 million in aid to local governments is provided for library grants, and an additional $2 million is provided for library cooperatives.
Funding for fiscally constrained counties include $3.9 million for detention costs, more than $700,000 for conservation lands, and $28.6 million to offset the impacts of previously approved constitutional amendments.
$24.3 million is provided from the Local Government Half-Cent Sales Tax Clearing Trust Fund emergency distributions revenue sharing.
A total of 98.5 million from the Emergency Communications Number E911 System Trust for 911 telephone system--$60.3 million for wireless and $38.2 million for non-wireless.