AMENDMENT 1: INCREASED HOMESTEAD PROPERTY TAX EXEMPTION
The proposed constitutional amendment would increase the homestead exemption by $25,000, creating a super-exemption of $75,000 for the first $100,000 dollars of the value of homestead property for the purpose of non-school property taxes.
The exact ballot summary language reads:
"Proposing an amendment to the State Constitution to increase the homestead exemption by exempting the assessed valuation of homestead property greater than $100,000 and up to $125,000 for all levies other than school district levies. The amendment shall take effect January 1, 2019."
During FAC's Annual Conference in June, the FAC Board of Directors voted to oppose Amendment 1 in its entirety.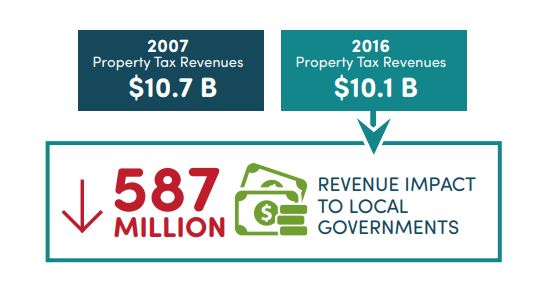 If approved by 60 percent of voters, it is estimated that the new homestead exemption would have a negative fiscal impact on cities, counties and special districts of $752.7 million in the first year. That impact would grow to $816.8 million by the fifth year.
The Additional Homestead Exemption amendment is nothing short of robbing Peter to pay Paul, and a Bait and Switch. The state is offering a "tax cut" out of the pocketbooks of local communities rather than their own. It may be called a "tax cut" but for many it will be a "tax hike" as business owners, apartment dwellers, and others will likely pay more.
This is a tax SHIFT not a tax CUT.  The tax burden will be placed on local business owners and non-homestead property owners who must choose between more taxes or fewer services.
Small counties hit the hardest: Florida's 29 fiscally constrained counties that are at or near the 10 mill cap will have no choice but to cut the limited services they are barely able to provide today.
Citizens will get less with less: The additional exemption means that counties that choose to maintain their current millage rates must make tough choices about the services provided to their citizens


HOMESTEAD EXEMPTION
Flordia's first homestead exemption was approved in 1934, when voters approved Amendment 2. The exemption was intended to help residents keep their homes during the Great Depression, according to Steve Bousquet, a reporter for the Miami Herald. Amendment 2 exempted the portion of home values between $0 and $5,000 for residents of Florida.
In 1980, the Democratic-controlled Florida State Legislature referred to the ballot Amendment 1, which increased the homestead exemption from $5,000 to $25,000. Democratic Gov. Bob Graham also promoted the ballot measure. According to the Associated Press, the increase resulted in a majority of homeowners in 20 of 67 counties, mostly located in northern Florida, not paying property taxes in 1981 because properties were assessed below the maximum exemption.
The homestead exemption for non-seniors remained the same until 2008, when voters approved a legislative referral also titled Amendment 1. Amendment 1 of 2008 exempted the portion of home values between $50,000 and $75,000 from property taxes. Between the 1980 amendment and the 2008 amendment, homeowners were eligible to receive a $50,000 exemption on their homes—the amount between $0 and $25,000 and the amount between $50,000 and $75,000.
FISCALLY-CONSTRAINED COUNTIES
As of 2018, the state constitution reserves the power to tax a property's value for local governments—such as counties, cities, school districts, and certain special districts—not the state government. Therefore, Amendment 1 of 2018 would impact the revenue of local governments, as these governments tax the value of properties and spend the revenue.
In Florida, counties that are considered fiscally-constrained counties—defined as rural counties and counties where a one mill levy would raise no more than $5 million annually—receive funds from the state government to offset decreases in revenue caused by certain homestead exemptions.
House Bill 7107 (HB 7107), passed in 2017, would require the state legislature to provide funds to fiscally-constrained counties to offset decreases in property taxes caused by the passage of Amendment 1 of 2018. State fiscal analysis estimate that fiscally-constrained counties would have revenue loses around $10.5 million annually.
Governing
The Week in Public Finance: Most States' Tax Systems Worsen Income Inequality
Some people pay more than their fair share of taxes -- and it's not the rich. According to a new report by the progressive-leaning Institute on Taxation and Economic Policy (ITEP), the lowest-income households pay 50 percent more, on average, of their income in state and local taxes than the wealthiest. That leads to worsening inequality in four out of every five states.
Palm Beach Post
Editorial: Amendment 1 benefits too few, shifts taxes to others
The constitutional amendments on the November ballot include three proposed by the Florida Legislature. All involve taxation, and - if 60 percent of voters approve them - all would make it harder for state and local governments to raise the money needed for vital services. Despite that, Amendment 1 will be tough for many voters with Florida primary residences to resist. If passed, it will increase the homestead exemption by $25,000.
TCPalm
Does Amendment 1 tease voters with tax cuts or threaten to destroy Treasure Coast tax bases?
A ballot measure that teases voters with the possibility of saving a couple hundred dollars could come back to bite them. Amendment 1's larger-scale impacts could include reducing the local tax base by billions of dollars, resulting in a $17.6 million annual hit to tax revenue on the Treasure Coast, according to local government officials. To make up for the lost money, local governments could be forced to raise tax rates or cut services, those officials say.
News 4 Jax
Homestead tax breaks could increase, reducing Jacksonville budget
There's a chance homeowners in Jacksonville could pay less taxes through a larger homestead exemption. Voters will decide in the November elections whether to approve a constitutional amendment to save some homeowners hundreds each year and leave the city with less money to use.
Orlando Sentinel
Commentary: Property owners beware — tax 'cut' up for a vote likely to be a fake reduction
Once this third homestead exemption shakes out in the end, it seems unlikely that residents actually will be paying less in property taxes.
TCPalm
Amendment 1 offers $243 saving to average homeowner, but cities, counties may feel its pain
Odds are good Florida voters will approve another property-tax break for homesteaders in the Nov. 6 election, but local officials are warning they may need to hike tax rates and slash services to make up for the lost revenue.
Herald Tribune
Sarasota County could face budget deficits if voters OK tax breaks
Sarasota County projects balanced budgets for the next two fiscal years but fears it could face steep shortfalls in the future should voters this fall to agree to give themselves property tax breaks. County officials anticipate balanced general fund budgets in fiscal years 2018-19 and 2019-20. But they project deficits ranging from slight to significant in subsequent budget years if voters on Nov. 6 pass two constitutional amendments granting themselves property tax breaks.
Florida Today
Proposed new homestead exemption would cut property tax revenue by $12 million in Brevard
A proposed Florida constitutional amendment that would reduce property taxes for more than 71,000 Brevard County homeowners has county officials worried.
Tampa Bay Times
Editorial: Don't increase homestead exemption
Here's another bad idea that should die quietly during these last two weeks of the legislative session. The House is poised to vote to put a constitutional amendment on the 2018 ballot that would raise the standard homestead exemption from $50,000 to $75,000, knocking a couple of hundred dollars off the typical homeowner's bill. 
Florida Politics
Leo Longworth, Matthew Surrency: Don't be misled - Amendment 1 is a tax shift, not a tax cut
Here they go again. Our state politicians are calling Amendment 1 a "tax cut," but it's actually a tax shift. A few property owners will benefit, but millions of us will pay for it. We believe that our tax system should be fair and work for all of us, not just a few. Amendment 1, which will be on the November ballot, would give a tax break to only one-fourth of those who own Florida properties. That means three-quarters of us would NOT benefit.
Palm Beach Post
Amendment 1 and what it means to Palm Beach County: Tax cut or hike?
Some see it as a tax cut. Others see it as a tax hike or shift. That's how Todd Bonlarron, Palm Beach County's assistant administrator, spells out Amendment 1 on the November ballot. Amendment 1, placed on the ballot by the Florida Legislature, would bring another homestead exemption to owners of homesteaded property with an assessed value of $100,000 to $125,000. It would deduct up to an additional $25,000 from the taxable value of the home, but doesn't apply to school taxes.
Walton Sun
Online tool provides exemption estimates
The owners of certain homesteaded properties in Okaloosa, Santa Rosa, Walton and most other Florida counties can go online to find out whether they would benefit from a possible third Florida homestead exemption. In the Nov. 6 general election, voters statewide will be asked whether to approve a proposal that would amend Florida's Constitution and provide for a third $25,000 exemption.
WFSU
To Tax Or Not To Tax? Florida Voters To See Questions On November Ballot
Recent polling shows there are four constitutional amendments poised for approval on Florida's November ballot. Three of those deal exclusively with the issue of taxation. But there's ongoing concern that determining tax policy through constitutional referendum isn't in the public's best interest.
WDBO
Groups Caution Against Amendment 1
ORLANDO, Fla. - Florida voters will hit the polls in November to decide on a dozen -- three proposals are tied up in the courts -- possible amendments to the Florida Constitution. Of those amendments, one, Amendment 1, is drawing criticism from many sides. The proposed amendment would expand the homestead exemption, increasing it from $50,000 to $75,000. However, the additional $25,000 exemption would apply only to homes worth more than $100,000.
Florida Phoenix
A closer look at Florida Constitutional Amendment 1
About this Florida Phoenix series: Florida voters could face a whopping twelve different proposed amendments to the state Constitution on Nov. 6 - one of the longest lists ever. The amendments cover a wild ride of subjects, including complex changes to tax policy, banning offshore oil drilling and greyhound racing, expanding gambling, automatically restoring voting rights for ex-felons, setting new rules on lobbying, and even whether Florida should ban vaping in public places.
Villages-News
Don't believe the false promise of Amendment 1
Tallahassee politicians are at it again. This time, it's Amendment 1. They call it a "tax cut," but it's really a tax shift. Most of Amendment 1's benefits go to a handful of homeowners while the rest of us pay for it -including many citizens of [your city here]. That's just not fair. Florida's tax system should work for all homeowners-not just a few.
Ocala Star Banner
Editorial: Don't be fooled by 3 tax amendments
Of the dozen state constitutional amendments on the Nov. 6 ballot, three were proposed by the Florida Legislature - and all three deal with taxation. While Florida's lawmakers are selling Amendments 1, 2 and 5 as tax-cutting measures, voters should not be fooled. All three amendments would make it harder for local and state governments to raise money needed for vital services - if 60 percent of the voters approve them.