EMERGENCY PREPAREDNESS AND RESPONSE
The Association is in direct contact with various state agencies as well as FAC Corporate Partners to help provide the most up to date information on response and services available to Florida's communities.  This page will be updated regularly with any information we receive that will be useful before, during and after the impact of Hurricane Michael.
STATE OF EMERGENCY:
As of Sunday, October 7, Governor Rick Scott issued 
Executive Order 18-276
 declaring a state of emergency in Escambia, Santa Rosa, Okaloosa, Walton, Holmes, Washington, Bay, Jackson, Calhoun, Gulf, Gadsden, Liberty, Franklin, Leon, Wakulla, Jefferson, Madison, Taylor, Hamilton, Suwannee, Lafayette, Dixie, Columbia, Gilchrist, Levy and Citrus counties, as the state continues to monitor and prepare for Hurricane Michael. As of Monday, October 8, the Governor has also expanded the Executive Order to include Bradford, Pasco, Hernando, Pinellas, Hillsborough, Manatee, Alachua, Union, and Baker Counties. With these additions, the state of emergency includes 35 Florida counties in total.
EVACUATION ORDER:
Locally-order evacuations have started ahead of Hurricane Michael in some Florida counties. Certain areas in the following counties are under a mandatory evacuation: Bay County, Dixie County, Gulf County, Jackson County, Okaloosa County, and Wakulla County. Areas in Calhoun, Franklin, Hernando, Jefferson, Leon, Liberty, Pasco, Santa Rosa, and Taylor counties have initiated voluntary evacuations. For a more detailed list, please 
click here
.
MAJOR DISASTER DECLARATION:
Following Governor Rick Scott's request, President Donald Trump issued a Major Disaster Declaration for Hurricane Michael. See the declaration 
here.
 The following counties have been approved for FEMA individual assistance: Bay, Franklin, Gulf, Taylor, Wakulla, Calhoun, Libery, Jackson, Gadsden, Washington, and Holmes. To view those declarations, please 
click here
.
GENERAL INFORMATION FROM FLORIDA DEM & FEMA
CONTACTING & PROCUREMENT INFORMATION
Prior to landfall, please ensure your pre-disaster contracts are compliant with 2 CFR 200 and the FEMA PAPPG. The Division and FEMA have made several references available concerning contracting, procurements, and pricing to help you make sure your contracts are in accordance with federal law. Failure to do so may jeopardize your reimbursement.
DEBRIS REMOVAL INFORMATION
FDEM has provided several references produced by either the Division or FEMA concerning debris removal. The information includes guidelines regarding general debris removal eligibility requirements, private property debris removal, and impacts to environmental and historic preservation assets. Failure to follow guidelines may jeopardize your reimbursement.  
DISASTER PROGRAMMING AND FRAUD PRECAUTIONS
Below is FEMA guidance and information regarding individual disaster programming and fraud precautions.
STATE DISASTER RECOVERY COORDINATOR CONTACT
As the agency with statutory authority for leading the state's response and recovery efforts for Hurricane Michael, the Division of Emergency Management (Division) is helping Florida's impacted communities transition from life-safety response activities to long term recovery efforts. Just as with the response to the storm, the Division is directing and coordinating the state agencies and all associated programs involved in the recovery process. 
As part of this process, the Director of the Division will serve as the State Disaster Recovery Coordinator (SDRC). Under FEMA's National Disaster Recovery Framework, the SDRC will work closely with the Federal Disaster Recovery Coordinator (FDRC) to support, manage and organize recovery efforts on behalf of the state and federal governments.
If you have questions or concerns about your community's recovery from Hurricane Michael, please reach out to the Florida Division of Emergency Management's Deputy Bureau Chief of Recovery Carter Mack at Carter.Mack@EM.MyFlorida.com.
FEMA ASSISTANCE
Please see below for status and eligibility information for FEMA programming available to Florida counties affected by Hurricane Michael. For Public Assistance, the federal cost share is 75%, while the state and local cost shares are 12.5%.
Transitional Sheltering Assistance, Individual Assistance, Public Assistance (Categories A and B): Bay County, Jackson County, Gulf County
Individual Assistance, Public Assistance (Categories A and B): Holmes County, Washington County, Calhoun County, Gadsden County, Liberty County, Franklin County, Wakulla County, Taylor County, Leon County
Public Assistance (Categories A and B): Jefferson County, Madison County, Hamilton County, Suwannee County
Hazard Mitigation Grant Program: All counties in the State of Florida are eligible to apply for assistance under the Hazard Mitigation Grant Program.
https://floridapa.org/ is now accepting Requests for Public Assistance (RPA) for Hurricane Michael. Please contact the Division's Deputy Recovery Bureau Chief Carter Mack at Carter.Mack@EM.MyFlorida.com with any questions or comments.
VIRTUAL APPLICATION BRIEFINGS REGARDING REQUESTS FOR PUBLIC ASSISTANCE (RPAS) 
The Florida Division of Emergency Management will conduct preliminary Virtual Applicant Briefings for Hurricane Michael on Monday, October 29, 2018, Tuesday, October 30, 2018, and Wednesday October 31, 2018. These briefings will be held on these three days at 10 AM and 2 PM each day, Eastern Time. Please register for the date and time that works best for you. To participate you will need internet access and a phone.
To register for the webinar:
https://attendee.gotowebinar.com/rt/6810865798997514753
After registering, you will receive a confirmation email containing information about joining the webinar, which will include system requirements to view and dial in # for the presentation.
Attendee Phone Number for the presentation: 1-888-670-3525, Passcode: 8304804869#
Future Applicant Briefings are being scheduled at this time, upcoming releases will provide more information. 
STATE/FEMA DISASTER RECOVERY CENTER
Thirteen Disaster Recovery Centers (DRCs) are open in counties impacted by Hurricane Michael. DRCs are readily accessible facilities or mobile offices where impacted residents can go for information about disaster assistance programs, and to ask questions about individual assistance applications. Representatives from FDEM, FEMA, U.S. Small Business Administration (SBA), volunteer groups and other agencies are at the centers to answer questions about disaster assistance and low-interest disaster loans for homeowners, renters and businesses. They can also help survivors apply for federal disaster assistance. A map of open DRCs is available HERE.
ACCESSING RESOURCES
The Florida Division of Emergency Management (DEM) is actively communicating with our state and private sector partners to ensure individuals and communities impacted by Hurricane Michael are receiving the resources they need. 
The State Emergency Response Team (SERT) has coordinated the establishment of 25 Points of Distribution (POD) in counties hit hardest by Hurricane Michael. PODs are places where the public can pick up emergency supplies following a disaster. These sites have food, water and other critical supplies. Click HERE for a complete map of POD locations.
In addition, major retailers in impacted communities have re-opened and are stocked with food, water and other important commodities. 18 Walmart, 24 Publix and 50 Dollar General stores are among the more than 400 individual retail locations currently in operation in impacted communities. Click HERE for a list of open businesses where food, water and other necessities are available for purchase.
A MESSAGE FROM SERT REGARDING GENERATORS:
During the response to Hurricane Michael, the State Emergency Response Team (SERT) purchased 5500kw generators for the purpose of running traffic signals throughout impacted areas. In an effort to maximize their utilization, we would like to partner with you to position and maintain these critical assets where they will be most needed when disaster inevitably strikes. 
Our offer is the following: to draft a memorandum of understanding that outlines state ownership of assets that are housed and maintained by local communities. This mutually beneficial agreement would detail that:
The generator(s) will be state tagged;
The generator(s) is/are subject to relocation and redeployment in a future disaster, paid for by the state (transportation, logistics, etc);
The county can utilize the generator(s) as they deem necessary during blue and gray sky scenarios;
The county will test and maintain the generator(s) to ensure functionality and readiness; and
When the county deems the generator(s) is/are no longer serviceable, they will coordinate with the Division of Emergency Management in completing the paperwork for removing the generator(s).
It is my understanding that we have nearly 700 generators available for your use. If you are interested in partnering with the SERT to house and maintain these units in exchange for their use during blue and gray sky events, please contact your Emergency Management Director first or FDEM Communications Director and advise how many generators you are interested in accepting. Please encompass any and all potential uses when determining how many you need; we can then effectively triage the total number of requests based on the total number on hand.
FEDERAL DISASTER SNAP FOOD ASSISTANCE PROGRAM:
The Department of Children and Families (DCF), in partnership with the U.S. Department of Agriculture (USDA), has initiated the federal Disaster Supplemental Nutrition Assistance Program (D-SNAP) in 12 counties to assist communities impacted by Hurricane Michael. DCF anticipates serving approximately 130,000 families through the federal DSNAP program as a result of Hurricane Michael. DCF served more than 1.2 million households for Hurricane Irma disaster food assistance last year.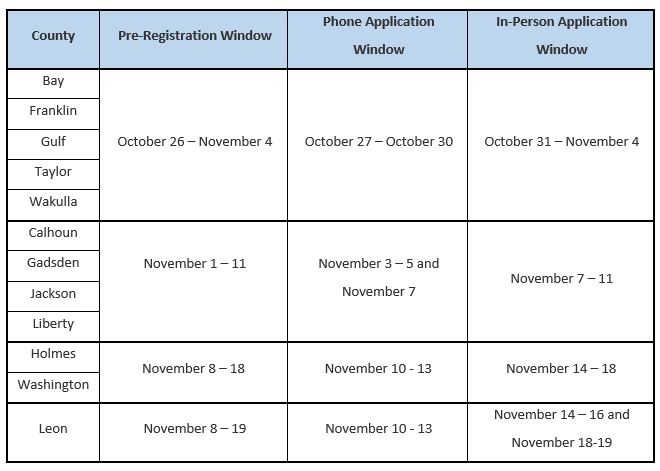 Following DCF's request, the federal government has granted permission to conduct phone applications for those individuals in all 12 counties who may not be able to attend the in-person events. Families in these counties, and those who are displaced as a result of the storm, are strongly encouraged to pre-register and take advantage of the phone application option. 
DCF will host D-SNAP events in three phases, based on the order in which they were declared eligible for Individual Assistance by the Federal Emergency Management Agency (FEMA). 
Visit the D-SNAP website for more information on pre-registration, site locations, and hours of operation.
FLORIDA NFIP COMMUNITIES THAT MAY BE AFFECTED BY HURRICANE MICHAEL:
The State Floodplain Management Office is reaching out to provide information on activities that should be performed by floodplain administrators immediately following a storm to help ensure that communities recover faster and meet their minimum NFIP requirements.  That being said, it is expected that work required post-disaster may exceed the capacity of existing community staff, and therefore will need assistance.   There are several sources of assistance that may be available, and are described in the Post-Disaster Toolkit for Floodplain Administrators that can be downloaded from our website with the links provided below.
Post-Disaster Toolkit for Floodplain Administrators
Florida Floodplain Management Quick Guide
BLUE ROOF RIGHT OF ENTRY
The U.S. Army Corps of Engineers will relocate most Blue Roof Right of Entry collection centers to FEMA disaster recovery centers beginning Sunday, Oct. 28, 2018, at 8 a.m. Collocating with FEMA disaster recovery centers will give survivors a "one-stop-shop" for disaster assistance programs including Operation Blue Roof.
"Our team is constantly reviewing the best options and locations for Operation Blue Roof, in coordination with FEMA, in order to streamline services for those affected by Hurricane Michael," said Lt. Col. Richard Gussenhoven, USACE Task Force Michael Commander. "We are proud to have installed over 500 blue roofs, at no cost to homeowners, since the program began and will continue to install hundreds daily as long as there is a need."
The schedules will remain 8 a.m. to 6 p.m. (local time for their location).
Bay County DRC – Bay County Public Library, 898 West 11th Street, Panama City, FL 32401
Bay County – Walmart Supercenter, 2101 S FL-77, Lynn Haven, FL 32444
Bay County – Walmart, 15495 Panama City Beach Parkway, Panama City Beach, FL 32413
Calhoun County DRC – Sam Atkins Park, NW Silas Green Street, Blountstown, FL 32424
Gadsden County DRC – (Old) Gretna Elementary School, 706 Martin Luther King Junior Boulevard, Gretna, FL 32332
Gulf County DRC – Port Saint Joe Library, 110 Library Drive, Port Saint Joe, FL 32456
Gulf County, Wewahitchka Information Center, 211 N State Road 71,Wewahitchka, FL 32465
Jackson County DRC – University Extension Office, 2737 Penn Avenue, Marianna, FL 32448
The Blue Roof program provides a temporary covering of blue reinforced plastic sheeting to help reduce further damage to property affected by Hurricane Michael until permanent repairs can be made. This program is available at no cost to eligible primary homeowners and landlords. For photos and video of the program, visitwww.dvidshub.net/unit/usacesad.
Current information is available at www.usace.army.mil/blueroof and at 888-ROOF-BLU (888-766-3258). Information is available in both English and Spanish through this single number. 
FDOT DEBRIS REMOVAL ASSISTANCE TO FISCALLY-CONSTRAINED COUNTIES:
To reduce the administrative, operational and financial burdens on counties most impacted by the catastrophic effects of Hurricane Michael, FDOT will assist fiscally-constrained counties with all remaining debris removal and emergency road clearance. In Holmes, Washington, Jackson, Calhoun, Gulf, Gadsden, Liberty, Franklin and Wakulla counties, FDOT is offering, following the county's voluntary request, to take on responsibility for each county's existing pre-storm emergency debris removal contract at the existing approved contract rate. For more information, please click here.
INFORMATION ON COUNTY-TO-COUNTY MUTUAL ASSISTANCE:
We appreciate all the assistance being offered by counties across the state. In order to facilitate assistance, please make sure you are following the process outlined below.
For those counties requesting and providing county-to-county assistance in the aftermath of Hurricane Michael, the following process should be followed to ensure reimbursement:
The requesting county should place a mission request in WebEOC for the specific assistance requested.
One Form B to the State-wide Mutual Agreement specifying the type of aid should be completed between the two entities. Section I & III should be completed by the requester, and Section II should be completed by the entity providing assistance. A completed copy of Form B should be provided to Alonna Vinson at alonna.vinson@em.myflorida.com and attached to the mission on WebEOC.
VOTING:
Gov. Rick Scott issued Executive Order 18-283 on October 18th which eases voting restrictions in Bay, Calhoun, Franklin, Gadsden, Gulf, Jackson, Liberty and Washington counties. According to Scott's order, these eight counties have the ability to extend early voting days and to designate more early voting locations despite the deadline having passed. In addition, the order also allows counties to send mail ballots to an address other than the address of the voter requesting a ballot and to provide mail ballots to a voter's immediate family member on election day without the need for a signed affidavit declaring an emergency. Lastly, the order also directs the state Division of Elections and counties to work together to ensure delivery of mail ballots to the thousands of displaced emergency workers so that they can vote.
NACO RESOURCES
As Hurricane Michael has passed, NACo is providing a suite of county-specific natural disaster resources through the NACo Disaster Resilience Toolkit for Counties, available as part of the IBTS Online Help and Advice for Natural Disasters (OnHAND) website.
FEDERAL UPDATES
In preparation for the potential impacts of Hurricane Michael, the White House Office of Intergovernmental Affairs has requested the contact information for commissioners and administrators.  In order to facilitate open communication with the White House, the Governor's office, and state agencies, we ask that you take a moment to update your contact information.  If your county should be impacted by a storm, cell phones are often the first and only way to communicate with one another.  Please take a moment to log in to your member portal and make sure your contact information is accurate. If you need assistance updating your information please contact  Milan Clayton at (850) 922-4300.
In addition, of the White House Office of Intergovernmental Affairs encourages you to reach out to their team with any questions and/or concerns but know that they – and the appropriate federal agencies (contact information below) – are monitoring the hurricane's development and path. While the Florida Division of Emergency Management is the first line of contact, contact information for the agency (including by county), as well as for FEMA Region IV, is below.
Agency Intergovernmental Affairs
Florida Division of Emergency Management
County Contact Information: Click here
Phone (Tallahassee): 850-815-4000
Updates (Twitter): @FLSERT
FEMA Region IV
On October 8th, Governor Scott requested that President Donald Trump declare a pre-landfall emergency for the State of Florida in preparation for Hurricane Michael, which is currently forecast to make landfall as a Category 3 hurricane in the Florida Panhandle very soon. This declaration will provide important resources and assistance from the federal government, as well as free up funding sources for emergency protective measures. To view the Governor's request, click HERE. The pre-landfall declaration request is for 35 Florida counties – Escambia, Santa Rosa, Okaloosa, Walton, Holmes, Washington, Bay, Jackson, Calhoun, Gulf, Gadsden, Liberty, Franklin, Leon, Wakulla, Jefferson, Madison, Taylor, Columbia, Hamilton, Suwanee, Lafayette, Dixie, Gilchrist, Levy, Citrus, Pasco, Hernando, Pinellas, Hillsborough, Manatee, Alachua, Union, Bradford and Baker counties. 
FAC CORPORATE PARTNERS
During times of distress, FAC is grateful for the support from our corporate partners. We have begun reaching out to corporate partners regarding their efforts to assist counties as Hurricane Michael approaches. As we receive information from them, they will be posted below.
UBER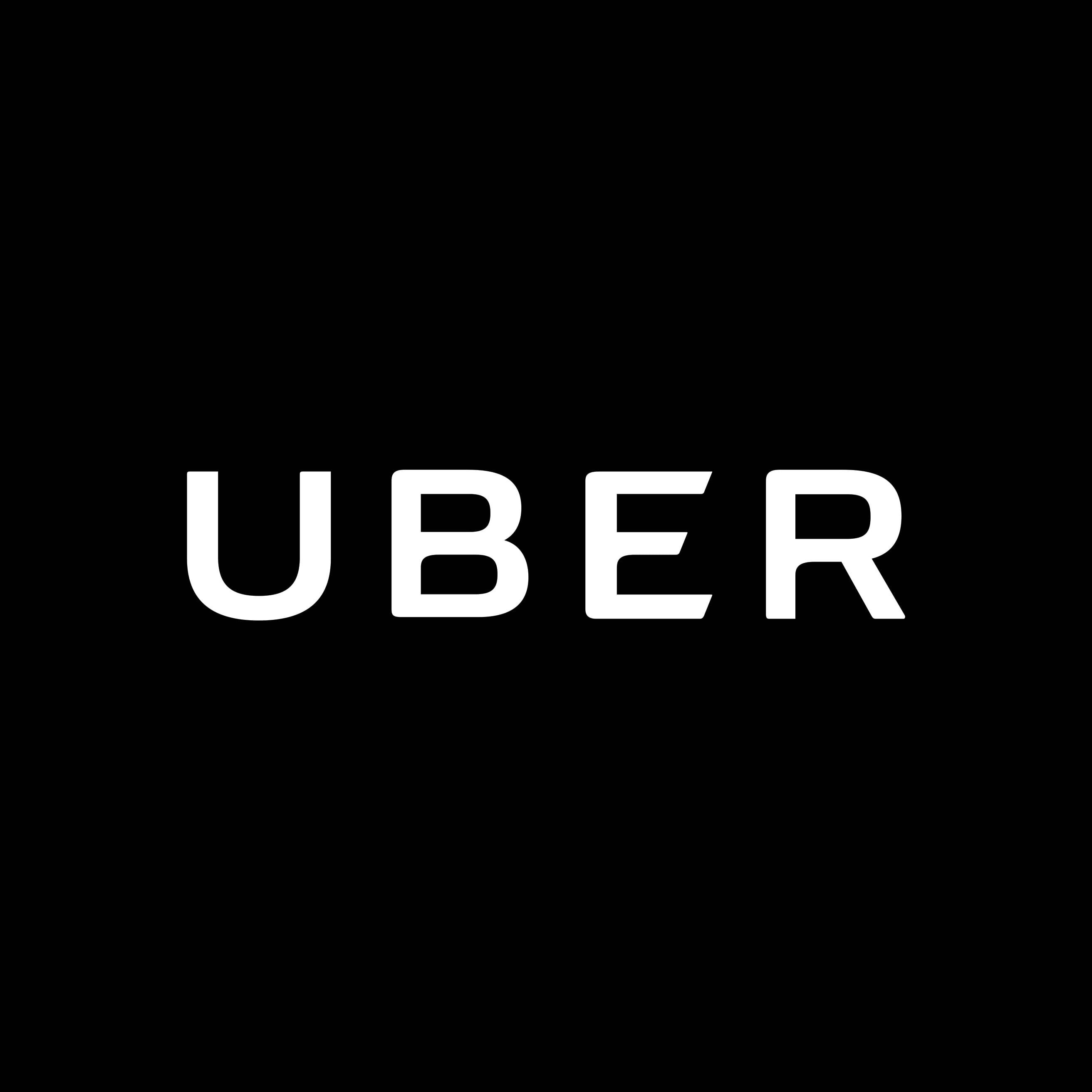 To support displaced families throughout the Southeast and disaster recovery efforts following Hurricane Michael, Uber is providing rides, food, and relief to the families and communities affected by the storm. Our teams are working directly with local government officials and the American Red Cross to understand where these services can be most helpful. Our current efforts include:
Providing free rides up to $25 each to and from state-approved evacuation shelters in Florida so people in impacted areas can access transportation when they most need it. See below for state-specific details on rides in Florida (list of shelters here). Terms apply.
Coordinating with local partners to deliver donations of food to volunteers
Providing discounted meals to law enforcement and first-responders working tirelessly to keep our communities safe
Uber is now servicing impacted Florida counties of Holmes, Washington, Bay, Jackson, Calhoun and Gulf. Be aware that service may be suspended nightly to comply with curfews. Check official sources for details on nightly curfews. For the latest information on Uber's Hurricane Michael efforts, please access our blog by clicking here.
In addition, if you are a government, nonprofit, or other organization with an immediate need for rides or are interested in partnering on other response efforts, please email us at SErelief@uber.com.
If you need to get to or from a shelter in Florida, Uber is here to help. Click here for more details on Uber service in your area post-storm.
How to redeem your 5 free rides up to $25 each to and from a state-approved evacuation shelter*
Open your app and tap "Payment" in your app menu
Scroll down to Promotions
Tap "Add Promo Code"
Enter code MICHAELSHELTER, then tap "Add"
Select any of the state-approved Florida evacuation shelters listed HERE as your destination.
U.S. COMMUNITIES
As you begin clean-up efforts and start to rebuild, U.S. Communities has many suppliers available to help. Working together with U.S. Communities and our suppliers, your agency can access valuable products and solutions to help with your recovery and rebuilding efforts. There are no minimum orders or commitments. All U.S. Communities contracts are competitively solicited by lead public agencies and include FEMA language to accommodate your agencies' requirements to utilize these contracts.
Whether you need rental equipment, facilities solutions or building materials, these suppliers offer natural disaster recovery services and support:
These suppliers can also assist with emergency response planning so you are prepared and ready if there is a future situation. For additional information, contact your Program Manager or one of our supplier partners directly to assist with your efforts.
CORPORATE SUPPORT FOR COUNTIES AFTER HURRICANE
There are many resources available to counties to help keep the business of local government running after a disaster strikes. As Hurricane Michael passes, a list of corporate initiatives to help counties will be made available.